Eyelash extension aftercare & maintenance
Lash maintenance should be low maintenance.
Keep them clean, keep them brushed and keep them touched up!
With our 2-4 week average fill times, you get the most out of your lashes!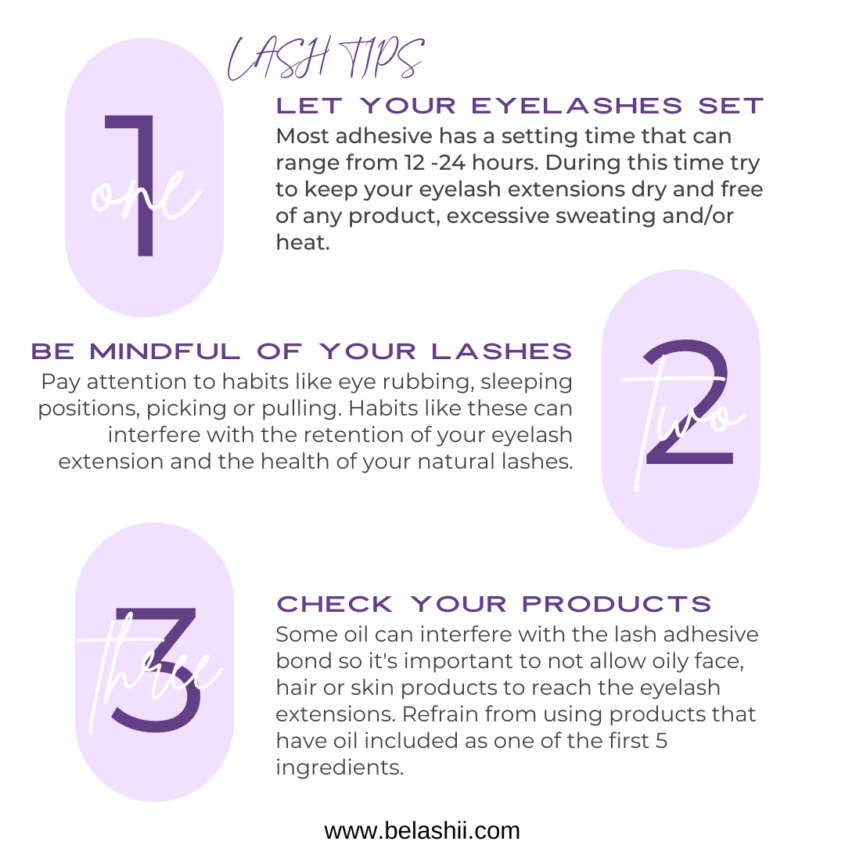 How do I take care of my eyelash extensions?
Let your eyelash extensions set – Adhesive setting time can range from 12 -24 hours, during this time try to keep your eyelash extensions dry and free of any product, excessive sweating and/or heat.
"12 is good, 24 is better."
Be mindful of your eyelash extensions – Pay attention to habits like eye rubbing, sleeping positions, picking or pulling. Habits like these can interfere with the retention of your eyelash extension and the health of your natural lashes.
Check products – Some oil can interfere with the lash adhesive bond so it's important to not allow oily face, hair or skin products to reach the eyelash extensions. When checking your products the first five ingredients are the most active. If one of these first five ingredients includes oil, keep it away from the area or discontinue use while wearing extensions.
Do you have oily skin? Use an oil absorbing cleanser around your eye area to protect your lashes as you may have a tougher time keeping lashes on than someone with a dry skin type.
Contact us immediately if your eyes become sore, swollen, red, itchy or irritated in any way after receiving your eyelash extensions, as these can be signs of an allergic reaction and should be assessed. For more information on allergic reactions and sensitivities click here.
If you experience any abnormal fall-out within the 5 days of receiving your eyelash extensions, contact us. Abnormal fall-out is considered shedding of 30% of your eyelash extensions and/or any noticeable gaps within the first 5 days.
Keeping your eyelash extensions clean is very important to eyelash extension retention and overall eyelash health.
How do I clean my eyelash extensions?
Always remove any eye make-up with an oil-free makeup remover or cleanser using a lint free applicator, cloth or pad before bed.
For heavy make-up, use a brush and gentle foam cleanser (ask about BéLashii foam cleansers).

Apply a pump or two of BéLashii TLC cleanser on eyelid/lashes.
Let sit for 15-30 seconds ( this allows the cleansing bubbles to break up any makeup, buildup, or eye crud. 
Gently cleanse your lashes from bases to tips with light pressure. Push the brush bristles in between your lashes, moving out toward the tips of the lashes. (You can do this motion from both the top and bottom of your lashes.)
**Be careful not to be too aggressive when cleansing.**
Rinse your lashes using a squirt bottle or splashing water onto your eyes with your hands.
Brush your lashes dry (cool air from a fan or blow-dryer may be used).
RETENTION TIP – Wash your face separately than your lashes.
Brushing your lashes is the most important part of after care for eyelash extensions and at home maintenance, as it will knock out any buildup and keep the shedding lashes from getting tangled up on other lashes and pulling them out prematurely.
Clean lashes last longer!
You are not doing your lashes a favor by not touching them, the less oil, make-up, shedding skin and eye gunk on the lash line, the less chance something can interfere with the eyelash extension's adhesive bond.
Do I need to use a sealant with my eyelash extensions?
When I first started doing eyelash extensions, there was no such thing as sealers. I understand the concept behind them and what they are suppose to achieve but in my career I have been able to see the same results without a sealant as others are seeing with. To me it is just exposure to more unnecessary chemicals and humans being "extra" which lets face it, we are.
What is a sealer?
Sealers act as a barrier protecting the adhesive bond, but if the extension is applied correctly to the lash the bond is already reinforced, which makes a sealer an extra rather than a necessity. It's like salt with your popcorn, salt makes the popcorn taste better but popcorn doesn't necessarily need salt to be great on its own depending on how it is prepared(and who you are asking). Salt doesn't make the popcorn better for you and depending on your biology could actually make the popcorn worse for you, so you are just exposing yourself to unnecessary sodium(from the salt) for no reason other than the belief that popcorn is better with salt.
So, the answer is NO. A sealant is not necessary for long lasting lashes.
If you want to use a sealant as a barrier to protect your adhesive bond from outside elements, it is something that is available to you and could help protect your bond if you live a lifestyle where you are around harmful elements that may otherwise affect your bond. It is an extra layer of protection, so if you are in need of that, a sealant could be exactly what you need.
Everybody needs different things, so if you are in need of a sealant, it is there for you. Just like an accessibility ramp, they are there for those who need it but not everyone uses it.
Feel free to contact us with any questions about your eyelash extension aftercare.
Thank you for choosing BéLashii.