How much is a classic full set of eyelash extensions for a first-time client?
At BéLashii, a classic full set is $79.99 for first-time clients.
How long is an eyelash extension appointment?
A full set of eyelash extensions can take one hour and 15 minutes up to two and a half hours, and a fill-in appointment can take one hour up to one hour and 45 minutes depending on the lash professional, time between fill-in, and/or style of lashes.
What if I have a problem with my eyelash extensions?
Please contact us directly via email, text, or call with any questions or concerns.
If you experience any issues at all, we want to know!
The best way to reach someone directly is through email and text messages. Phone calls are answered upon artist availability.
Phone – 612 248 0961
Email – mnbelashii@gmail.com
What if I am wearing eyelash extensions from another salon?
If you are wearing lashes from another salon, please choose the new client fill option when booking online for your current lash style—classic, hybrid, or volume.
A new client fill price starts at $80, but it can be more if we run into issues that enable us to work with your current lashes.
If you are experiencing any issues with your current eyelash extensions, please contact us for a short consultation before scheduling your appointment, as more time may be needed.
Issues include, but are not limited to:
irritation
pain
clumping
not being able to brush through your lashes
Although we can work with most lash work from other salons, if any of these issues are present, we will need to remove the lashes and start with a new set.
We come across many clients who do not know how bad their current eyelash extensions are, so if you are unaware of the current state of your lashes. Please reach out so we can help assess the condition of your eyelash extensions and help you make a plan to correct any issues or damage.
What if I need to cancel my appointment?
We have a strict 24-hour cancellation policy. You may be charged a cancellation fee of $25 for late cancellations or missed appointments. If you are more than 15 minutes late to your appointment, you may be asked to reschedule and be charged a $25 fee.
Please cancel your appointment via the link in your confirmation email or text message at least 24 hours before your appointment to avoid this charge.
Need to cancel your appointment?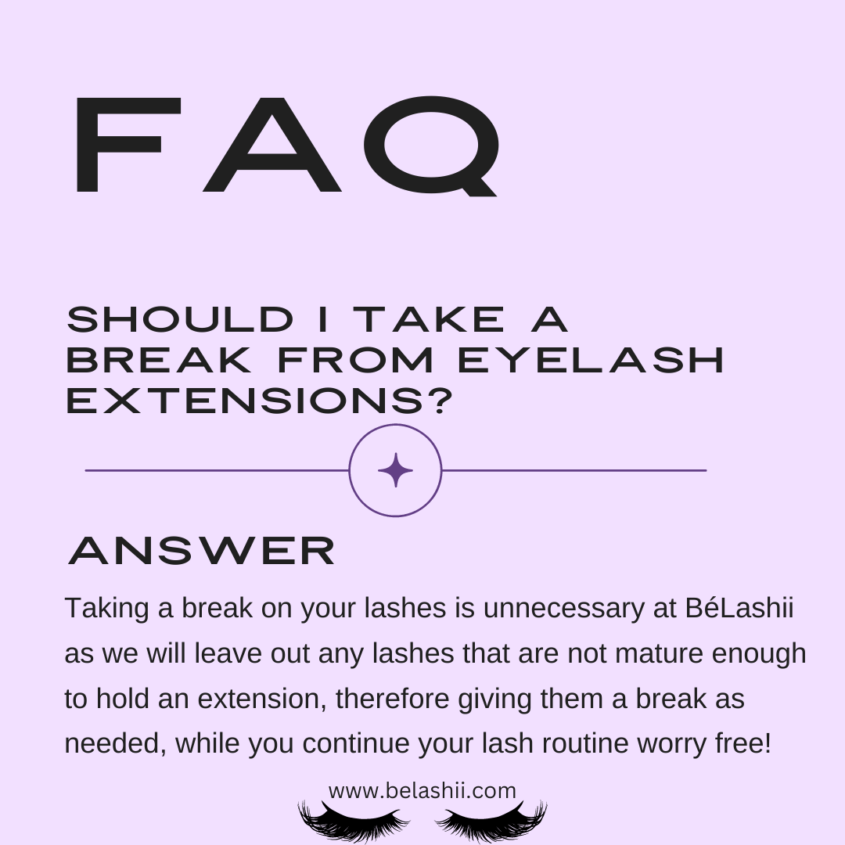 How do I book a facial appointment with a Groupon?
Book your appointment as normal. A debit or credit card is required to hold the appointment spot, this card will not be charged unless you cancel within 24 hours of your scheduled appointment or no show to your scheduled appointment. The Groupon is required at the end of appointment and there is a 20% gratuity charge at the time of your appointment.
Will the card I use to book my appointment be charged?
A credit card is required to book your appointment. However, you will not be charged unless you cancel within 24 hours of your appointment or do not show up for it.
Credit card payments at the salon will be subject to a 2.9% transaction fee. To avoid this fee, other payment options are available, such as cash and Venmo.
How old do I need to be to get eyelash extensions?
Anyone over the age of 16 can get eyelash extensions without consent. If you are under 16, a parent's approval is required to get your lashes done. A parent must accompany a minor under the age of 16 to the appointment and fill out the consent form on behalf of the minor.
How old do I need to be to wax my eyebrows?
12 to 15-year-olds will need consent and an accompanying parent.
16 yrs and up do not require consent.
Can I swim with eyelash extensions?
Yes! There is a 12-24 hour setting window where you will want to refrain from submerging your lashes, but after that, you are good to go!
"12 is good; 24 is better!"
Should I take a break from eyelash extensions?
When applied correctly, there should be no need to take a break from eyelash extensions. If you are worried about the health of your natural lashes, you can add a growth serum to your routine to keep your natural lashes strong and healthy with no negative impact on your eyelash extensions.
Eyelash growth serums can help increase the retention of your eyelash extensions as they prolong the growth phase of your natural eyelashes, meaning you shed fewer lashes!
How often should I get a fill?
Fill times will vary per client but are usually necessary every 2-4 weeks.
Fill times depend on your natural lash cycle, the number of natural lashes, skin type, habits, facial and hair products, sleeping patterns, and lifestyle.
2 to 3-week fills are average for all lash styles.
Fills should be considered when 45 to 60% of lashes are shed.
Please pre-book your next fill at the end of each appointment to ensure you can get in conveniently and avoid an excessive loss fee of $15 to $50.
If you have any issues with the retention of your eyelash extensions, please consult with your lash professional. We want you to get the most out of your lashes!
What is an excessive loss fee?
Most salons will charge you the price of a whole new set of eyelash extensions if you come in with less than 20% of your lashes. At BéLashii, we don't think that is fair. Instead, if you come in within four weeks with over 80% of your lashes shed, we will charge an excessive loss fee, not to exceed $50. If you go over five weeks, this will be considered a full set of eyelash extensions.
If you experience heavy loss within the 4 week period we will work with you to try to troubleshoot the issue, however a full set price will be required if all lashes have shed.
Do you do bottom eyelash extensions?
We do this upon request.
Can I wear mascara with my eyelash extensions?
If you are tempted to wear mascara with your eyelash extensions, we suggest upgrading to a hybrid or volume set of lashes for a fuller, darker look.

If you are at the end of your fill cycle and need to wear mascara until your next fill, use a non-waterproof mascara that comes off easily with water or an oil-free makeup remover. Remember to NEVER sleep with mascara on your eyelash extensions, as this will dramatically lower the retention—how long the lashes last.
What kind of eyelash extensions do you use?
We use premium eyelash extensions made from synthetic silk or lace. All our lashes are lightweight and natural looking.
Are your eyelash extensions mink?
No, we use premium synthetic eyelash extensions that last longer and have less risk for allergy.
What kind of adhesive do you use?
At BéLashii, all our adhesives are acrylic-based adhesives that are hypoallergenic and formaldehyde and latex free. We also have a fume-free, sensitive eye adhesive for our sensitive clients.